Childhood Cancer Awareness
Bake for Kids with Cancer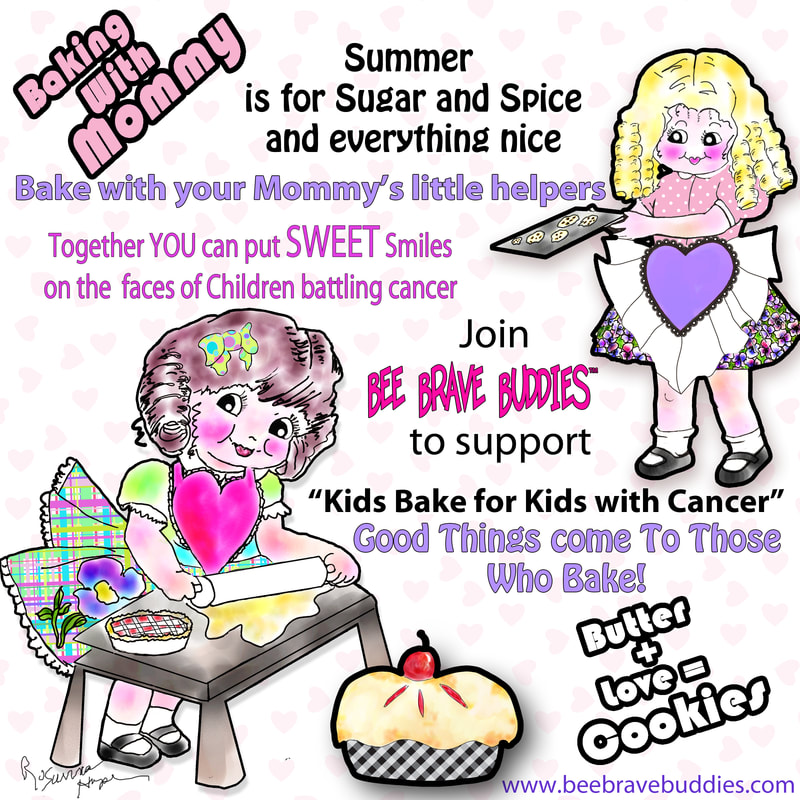 ---
Make a SWEET difference, one delicious confection at a time this summer! Grab your kiddies and friends and Join Bee Brave Buddies to bring awareness to Childhood Cancer. Approximately 16,000 children are diagnosed with cancer each year in the US and sadly over 43,000 are in treatment for childhood cancer every day. We would love to send each of these children battling cancer a special gift of one of our beautiful bald dolls for support and to aid in their self esteem. Our dolls are designed to be a new best friend to hug and love.
Join US to put big smiles on these children's faces!

Help us raise funds to send dolls to every child in treatment with cancer today by hosting a Summer Time "Bake For Kids for Cancer" bake sale.
​
There are two ways to participate in our fundraiser
​

1. Individuals can organize Bake sales
Organize a "Bake for Kids with Cancer" Bake Sale" in your community!
Grab your friends and kiddies, invite your schools and houses of worship, have a neighborhood block bake sale, set up a boutique bake shop stand at your sports games in the spring, Sororities, girl scouts, boy scouts groups start baking your yummy cupcakes today! Teach your children the value of giving back to another child in need! BEE Creative!
Your groups will have a fabulous time together and at the same time will feel the LOVE from our children and the joy of helping others. You can send us personalized handmade greeting cards to include in our deliveries to the kiddies with their dolls.


2. ​Bakeries across the USA can donate a percentage of sales
If you are a Bakery, partner with us for
"Bake for Kids with Cancer" and donate a percentage of your sales during the Fall/Winter months to bring Childhood Cancer Awareness to all of your customers; together we can make a difference in the lives of these children.
We will send you personalized signage in a frame
​(your logo or name will be printed on the Cupcake shop sign) to display in your shop.



If you are a Bakery, We will add and link your shop as one of our sponsors to our Sponsorship page, you can add your business cards to the dolls we ship out to our children. Every effort will be made to get local press for your event. We will also ship dolls to your local pediatric hospitals in your name! We are grateful for your partnership with Bee Brave Buddies
Don't love to bake? Get Creative and organize a Super Special Fundraiser, so Bee Brave Buddies can send dolls around the world to help put big smiles on the faces of all of our children battling Cancer this holiday fall. Teach your children the value of giving back to other children! Throw a big neighborhood garage sale to support your local pediatric oncology hospital, sell on Ebay, have a book sale, design a lemonade stand, put together a 5K from the office, clean your closets and have a rummage sale, grab your crafty friends and show off your goods, collect change around the office! You got the idea! Together we can make a big difference this summer! Our children in treatment just want to play and be normal. Every $25.00 you can help us fund raise will put a doll into these little warriors arms and make you feel amazing! Thanks!
Do you want to be part of "Bake for Kids with Cancer" to support Bee Brave Buddies, Please contact us! Bake the World a Better Place!