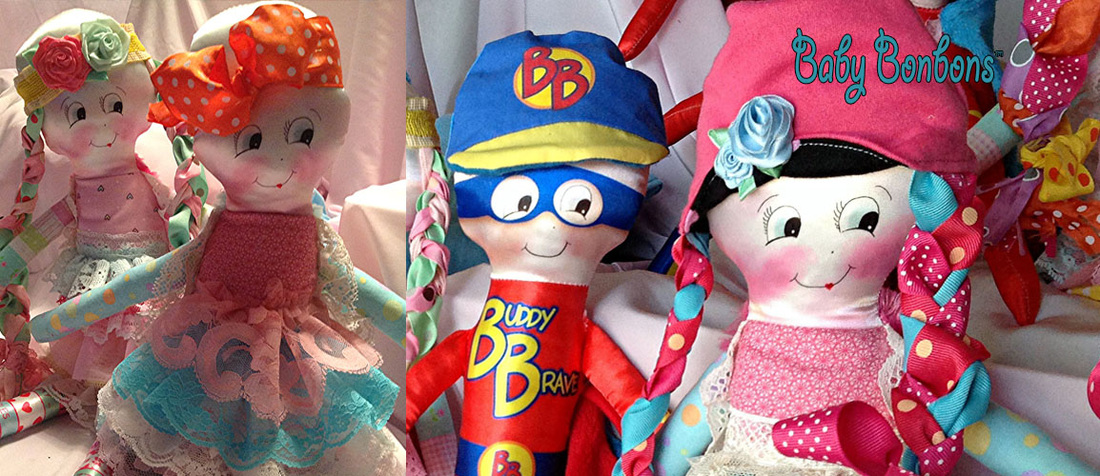 I am very excited to welcome you to our new Bee Brave Buddies blog
The Buzz.
I look forward to building a community of friends here who are also interested in putting big smiles on the faces of children with childhood cancers and other childhood stresses. I look forward to all of your suggestions and truly need your help and support on the journey to make these children feel braver ( they already are very brave in my eyes) and
to enjoy a new best friend by their side to take to treatments, to giggle with, to tell little secrets to and to cuddle and hug and love.
Rumor has it that the super powers of Bee Brave Buddies dolls lies in their magic to immediately make a child smile!
You and I can make a difference together. Please join me to put a Bee Brave Buddies doll in the arms of every child with cancer around the world.
One Doll at a Time!
Presently I am personally giving back all dolls from my Babybonbons children's clothing business. Bee Brave Buddies is not a non profit at this time of this initial blog post, we sew and stuff with love all dolls in my Miami Beach licensed studio
To date, I have gifted around 50 dolls in the last 6 weeks since we started. To reach my goals of giving a doll to every child in treatment with childhood cancers I now would love your support.
We now can ship all dolls in either white or brown shades of skin.
I am personally in remission for Chronic Myelogenous Leukemia and I want to share the love now and give back to these amazing children and their families. Folks big and small would all love a new best friend BBB dollie!
In August 2014 I started drawing and designing the three Bee Brave Buddies, Buddy Brave, Bestie Brave and Catie Cuddles.
I then had my original doll designs transferred and printed on a very silky satin fabric that children love to put up to their faces and snuggle. The dolls are printed on fabrics and sewn entirely in the USA.. I also use a soft lush minky fabric for the dolls pillow shaped backs so little hands can easily hold and hug these dolls. The dollies are designed beautifully bald and come with matching ball cap or big bow headbands.
I hope to eventually give a Bee Brave Buddies doll to evey child with cancer around the world. Share the love with us! Share our story with friends and family also.
We truly thank you!
Please leave me messages here or send messages to my contact page You can also drop me emails and LIKE us on facebook and twitter page in links on front page. I look forward to hearing from all of you folks during the following months with pictures and suggestions.
Warmly,
Roanna Hope Bernstein