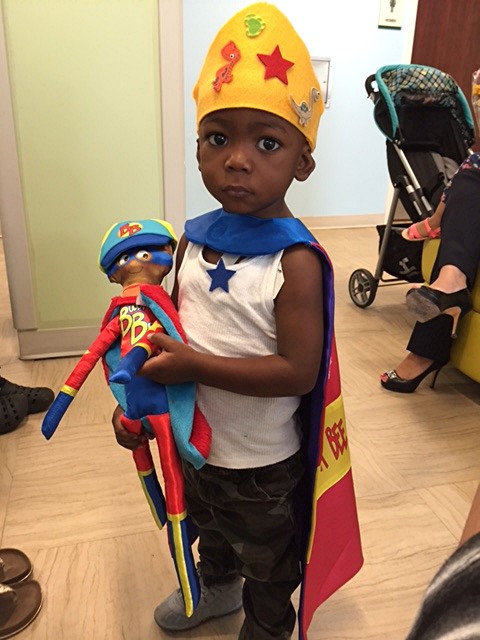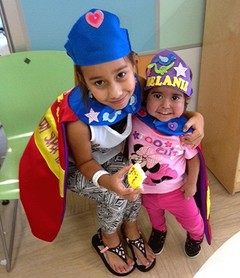 I am so excited to share with you our first big Bee Brave Buddy Super Hero event. For several weeks we have been very busy in our studio making beautiful silky super hero capes for all of the kiddies and their siblings in treatment at Sylvester Comprehensive Cancer Center, Alex's Place which is their new outpatient hematology infusion center and clinic. Sylvester CCC is part of the University of Miami Health Care Campus.


The first week of August which was my birthday, I decided to throw myself a big birthday party to celebrate with all of the children that would be in treatment that day at the clinic and did we have a fabulous time! We took baskets of fun felt stickers for each child to personalize their super hero capes and super hero crowns we had made for them. Check out these chic chic designs that each kiddie decorated and dressed up in for our "I am a Super Bee Brave Buddy Hero of the Day" fashion show. Some capes did not have room for one more sticker!... the kiddies all got one of our Bee Brave Buddies beautifully bald silky soft dolls, Buddy Brave And Bestie Brave to also take home.. and what is a birthday party without yummy cupcakes, treats and juice boxes!?


As a big bonus the hospital downloaded our special Bee Brave Buddy paper dolls we designed for our Bitty Bee Art Corner here (free downloads for all as a gift from us!) The little girls especially loved adding bling, dressing them and playing make believe with Buddy Brave and Bestie Brave paper dolls.


Join our slideshow party here to see a few special moments we had with these adorable little children. We also want to thank Microsoft Windows #upgradeyourworld as one of our sponsors for the very special event. Together we put big smiles on the faces of 20 children and siblings who needed a little fun and our Bee Brave Buddy dolls to hold their hands, snuggle and hug while they were in treatment that day. I could not have had a better, more memorable birthday party!! Looking forward to many more special Bee Brave Buddies events.