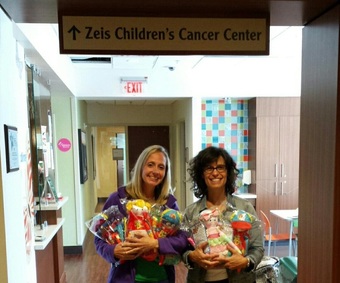 Bee Brave Buddies is very proud to announce we are now a 501(c)3. Now, we will be able to reach so many more children with cancer to place one of our dolls in their arms. Bee Brave Buddies's goal for this year is to be able to gift our beautifully bald super hero dolls to children in all of the states across the USA!

I need everyone"s help with this big goal! Not only do we need your financial support, but we also need many volunteers to help us across the USA!

I am looking for Doll Ambassadors! Now where on earth can you add the title of "Doll Ambassador" to your resume? This is a very exclusive job, one that will not only make a big difference in the lives of others, but one that will make you feel very special in addition.

Our Doll Ambassadors are a very important part of our team. They are like the Generals in the army. They will be helping us make big decisions as to which hospitals and clinics in their local areas to send our dolls to. I am looking for doll ambassadors in all corners of the country. If you have a little spare time and you care about the quality of the lives of these children and would like to try to spread some love to these kiddies, this is a perfect job for you.

My Doll Ambassadors will help me locate the hospitals in a local area, then contact the child life or social workers to make sure that this hospital is interested in receiving our dolls. She or he will also be present for the first doll presentation at that hospital, if they are in the area and can make it. All dolls will be shipped directly to the hospital, but we love to have one of the Bee Brave Buddies representatives available at this important event. We would also ask our doll ambassadors to help us with local press to highlight the generous support of the sponsors for their projects, if they have contacts. We are available at every part of this journey to help also!

I call on my doll ambassadors also to help me find local sponsors for the gifting of the dolls to that hospital on a monthly basis, thus our new program, Bee Brave Buddies of the Month Club. (Check out Buddies of the Month page) A creative Doll Ambassador will put together a team of their friends or family to find sponsors for our monthly gifting of the dolls to her designated hospital. They can draw support from so many difference areas: local businesses, corporations, church groups, school groups or ladies clubs that would like to rally for our cause, garden clubs or sports teams in your area. These are just a few examples of groups that could help us touch the lives of these children in a very profound way. Our dolls give the children comfort, courage and confidence. These seriously ill children only want to be normal and play, Our dolls provide many hours of magic when the children are hugging and loving them. Your job as a doll ambassador is going to be very rewarding and very important in helping to make Bee Brave Buddies go forward. Drop me a contact message if you think you would like to apply for our Doll Ambassador positions. We welcome you to our team with open arms! And hope you will step up ! Giving back makes you feel HAPPY!
​
​