Bee Brave Buddies invites all children, families and schools to participate in our
Kids Helping Other Kids Program this holiday season
Last year.....You Rocked it! The kiddies loved your cards and notes!! join us again this year!
---
Teach Your Children to Give Back EARLY.....BEE BRAVE BUDDIES Holiday Card
We were so excited to see the great response last year to our Bee Brave Buddies holiday project..KIDS GIVING BACK TO OTHER KIDS! So MANY beautiful creative cards arrived back to our studio, sharing a few with you today. Please join us again this year to help us put some big smiles on the faces of our brave little buddies!
Happy Holidays to all and thank you so much to all the parents, teachers and especially the children who are taking the time to give back with love to a child in the hospital this holiday season! They will adore their awesome cards and know they have a new buddy who cares about them deeply with love and hugs. We are delivering all of your cards to children spending time in the hospital during the holiday season and need extra love and a new best friend to care. Thank you especially to
Pine Crest School
for their amazing cards last year!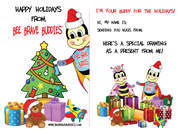 ---
Giving Back makes you HAPPY! Thanks to all the children who CARE!
Right click on the words "Download File" below and choose "Save link as" to download the Bee Brave Buddies Christmas coloring card to your computer, or click on the link, Single Page Coloring Sheet and print directly from our site. We recommend card stock.

Teach your child to art of giving back this holiday season! Make this a family event. Download and print our whimsical Bee Brave Buddies holiday card, have your child draw a special picture and message on the inside of the card to his or her new buddy friend, show them you care, fold the card in half on the dotted line, and mail the card back to Bee Brave Buddies. Send as many cards as you like. Make sure your child signs his or her name and hometown. Your child's drawing, message and, especially, the time he or she spends making the cards will make a big difference and bring giggles and love to the lives of these brave little buddies, who will have to spend the holidays in the hospital over the holidays. We will insert these cards in more than 500 doll packages, we will be shipping to children around the world, who are battling cancer this holiday season! Send cards early to Bee Brave Buddies, 1316 Biscaya Drive, Surfside, Florida 33154. We encourage school classes, scouts and religious groups to participate also.

​Research show children who learn to give back early are much more likely to become caring responsible adults. By teaching these lessons of gratitude and generosity early, you set your children up for a lifetime of giving back to those in need. This will become a way of life!

To view single page coloring sheet Christmas card click the Download File link below.
Bee Brave Buddies would love to see pictures of the children playing making their Christmas cards for other children. WE will display on our Face Book page and also on Web site and send a big thank you to each child!
Share photos by email to
thebuzz@beebravebuddies.com
Bee Brave Buddies is a 501(c)3 nonprofit charitable organization. We are funded 100% by donations