Blossom Bee and Buzzy Bee are buzzing around the USA to bring BIG HUGS and lots of LOVE to all our our kiddies battling cancer Easter Weekend!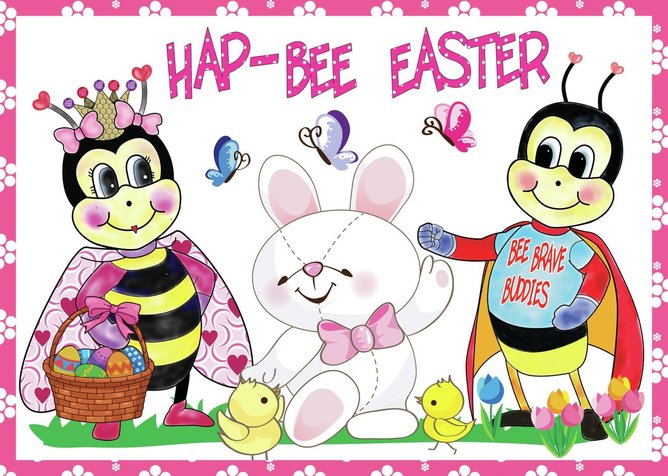 To our Businesses and Friends who would like to sponsor our Easter Cards Delivery..... WE thank you!
---
How can your corporation or Personal business, church groups or schools make a big difference in the lives of our Brave children fighting Cancer around the world? Very Easily! WE have the perfect guaranteed plan for your employees and your business to put some big smiles and giggles on these sweet little faces. Please join us and match $1.00 per card for every parent or friend who would like to send one of our brave superheroes one of our HAP_BEE Easter Cards this holiday season. Please contact us below if you can become one of our exclusive sponsors for this very important Bee Brave Buddies fundraiser programs! WE will be in touch with you with all of the information. We are open to any amount you can match. WE will be sending cards to our
partnering hospitals
across the USA to as many kiddies as we have sponsors.
This is how it will work:
Parents and friends and child life from Pediatric Children's Hospitals across the USA will be able to come here to sign up for a HAP-BEE EASTER card and leave a loving message on our sign up page These cards will be sent in big packets to our listed
partnering hospitals
or to hospitals of your choice in your local community. Cards can be requested also for private families struggling with childhood cancer diagnosis. For Every card requested, we are asking for your business to match only $1.00 per card up to your designated limit. Would you please help us? Your business and logo will be listed with LOVE on the back of the cards and also linked here and on our sponsorship page to your business. We hope to also have press coverage for this happy delivery to these children. WE know when we put a giggle and a smile on the face of these children in treatment for cancer, it is contagious, MOM and DAD smile and all of the STAFF smile too! Please call or write to us and help make this big difference in these children struggling to feel better! There will a choice of 3 cards similar to sample above for the folks to chose and sign. As a bonus, every 5x7 card sent out will also have an invitation on the back for that child to come back to our site and sign up for one of our Bee Brave Buddies dolls as a free gift from Bee Brave Buddies and from YOU! Thank you!
---
---
To our Friends and Families of all of our Kiddies Battling Cancer.....we invite you to send a Hap-BEE Easter Card......
Bee Brave Buddies will be hopping around the country to send our First Annual
Hap-BEE Easter Cards
to all kiddies battling cancer this Easter Holiday Weekend. Our cheerful cards feature our two little Sweet Bee Friends,
Blossom BEE
and Buddy BEE and their new little friend,
Honey Bunny
! There will be a choice of 2 or 3 cards.
​
We are shipping big packets of cards to be distributed to the children in the hospitals on Easter Sunday. We will also happily ship to any private family requesting a card for their precious little buddy!
Please contact us here with name and address of your little guy or gal or with the name of a local hospital to include in our Easter Card and doll deliveries. Please leave a loving message to be sent to a child on our list.
Every Child receiving a Easter Card is also invited to fill out our
nomination form
on our website to request a Bee Brave Buddies doll as a very special free gift from Bee Brave Buddies this Easter or Passover holiday season. We give our dolls to put some big happy smiles on these kiddies faces, made and sent with LOVE from our heart! When these children smile, it is infectious, the mom and dad smile and the entire staff smile. Thank you very much!
---