---
---
---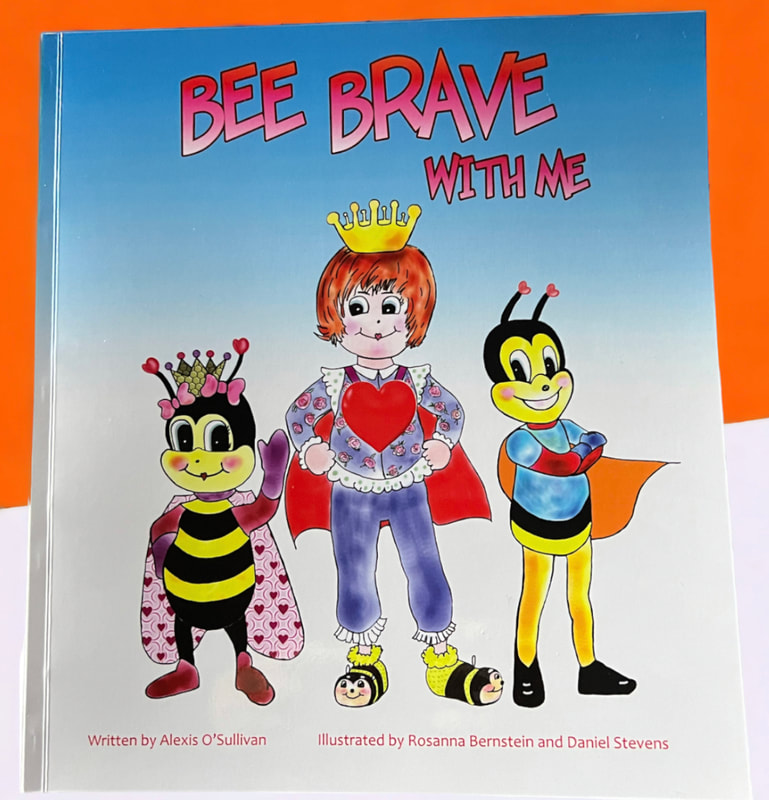 ---
We are very excited to announce that Bee Brave Buddies has published our first adventure book, "Bee Brave With Me". It was authored by one of our staunch Childhood Cancer Awareness advocates, Alexis O'Sullivan, who volunteered to write this brilliant book for Bee Brave Buddies several years ago. She is originally from Ireland. it was illustrated by Rosanna Bernstein (founder of our nonprofit, Bee Brave Buddies) and volunteer Daniel Stevens, our extremely talented graphics designer from Georgia. You are going to adore the book!

"Bee Brave with Me" is a brightly colored and delightfully written book! It is our first Bee Brave Buddies adventure book. Children facing all types of challenges will be so excited to read this adorable book and learn they too can have a super power,Everyone of us has a super power~~ What is yours? Start a conversation with your child and teach them that we all have super powers, for example to be brave, to be kind or to be strong; they too can have a super power to make the world a better place now and to make a difference in the future. Often the things we love to do are related to what our super powers are. Help them discover what theirs are today.

​If you have a child battling cancer or a serious disease, drop over to our NOMINATE page and sign your child up for a free gift of "Bee Brave with Me" sent with lots of love directly to your child.
If you would like to a copy for your library, want to send a gift to a friend, or even sponsor a big box of these books for a children's hospital ward, you can drop by our SHOP to order with your donation. One hundred percent of your purchase of the book is a donation that goes directly to Bee Brave Buddies nonprofit which is a 501(c)3. Your donation will help to gift a book to another child. Make a difference, another little child will smile and you will smile also! Thank you~
Rosanna Bernstein

---

We would love for you to meet a few of the children who have received Bee Brave Buddies dolls.
​Our dolls bring big smiles to their sweet faces.
Nominate your child battling cancer for a free Bee Brave Buddy doll, a gift from our nonprofit!
Just fill out the nominate form to receive a doll!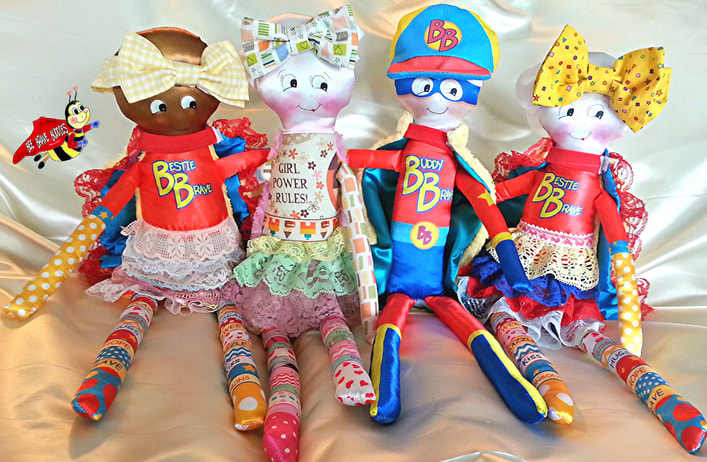 Latest Hospital Partner
We are proud to announce one of the newest Children's Cancer Hospital partnerships which is across Tanzania, Africa, Muhimbili National Hospital, Dar es Salaam, Bugando Medical Center, Mwanza and
Kilimanjaro Christian Medical Center, A big shout out to We Are TLM, nonprofit and to John Reilling for their support and hand delivery to 90 courageous children as we all begin to celebrate Childhood Cancer Awareness month.

---
---
Bee Brave Buddies = Big Smiles on the faces of our Buddies battling cancer
---
---
---
We are honored to be the July 2016 Awesome Foundation Miami grantee!
---

---
---
Bee Brave Buddies are dolls for children and young adults in treatment for Cancer


Help us meet our goal of placing Bee Brave Buddies dolls and our other comforting gifts




into the arms of every child battling cancer, who needs a hug and to also put big smiles on these brave sweet faces.


We donate hundreds of dolls, pillows and blankets to pediatric in-patient and out-patient oncology facilities across South Florida, the USA and internationally, and in addition to private families
You can ​​nominate any child with cancer who needs a New Best Friend Doll (Request a Doll) and we will ship his or her new doll with our love as a gift from Bee Brave Buddies.
We have also added other charming gifts for your choices.

Please visit our ​donation pages to help us send as many dolls as you can to children around the world with cancer. It is rumored our dolls have the magic to make their new best friends feel super brave!

We have set up a shop where you can donate to sponsor a doll, Snuggle pillow, blanket or "Bee Brave with Me" book either as a gift for a special child you know, or one that has been nominated on our site. You will know exactly where your donation is going.

We have a very special club you can join, ​The Bee Brave Buddies Doll of the Month Club, where you can sponsor a big box of dolls to be sent each month to pediatric oncology hospitals for an entire group of kiddies. Join and become a very special member!
​
There are many ways we can MAKE A DIFFERENCE TOGETHER in these children's lives.
Our mission is to provide emotional support to children and young adults in treatment for cancer and other serous illnesses through the gifts of our dolls, original books, cards, blankets and other items.

Bee Brave Buddies Corporation is a 501(c)3 nonprofit
Bee Brave Buddies Special Super Hero Event At Alex's Place, Sylvester Comprehensive Cancer Center

---
Bee Brave Buddies is a nonprofit 501(c)3 charitable organization.